APP Conference 2019
"Inceptive has once again taken an idea and applied it to our annual event, making it an elevated and unforgettable experience for all involved. We've been hosting this event for many years now and we couldn't do it without the knowledge and capability of the Inceptive team."
The Pharmacy Guild of Australia serves as a supporting body for not only its members but some 5450 community pharmacies across the country, ensuring the delivery of quality health outcomes for all Australians. Every year, the Guild is responsible for facilitating and hosting the Australian Pharmacy Professional Conference & Trade Exhibition (app2019) – an event we've worked on for the past 20 years. We understand the brand recognition and amplification that this event generates, so it was important for us to weave in high-impact branding elements through the entire production – from inception to execution.
The Logistics
With a huge 6000+ delegates in attendance, the project took place over four days on Queensland's Gold Coast and was comprised of both daytime and evening events. Over 100 speakers took to the stage alongside 60+ education sessions over the course of the conference, so operations needed to be smooth and seamless from start to finish.
As a starting point, we used CAD drawings to get a realistic gauge on every detail of the design of the event, from every angle. This helps bring to life the client's big idea, right from the word go. We then worked hand-in-hand with the venue (Gold Coast Convention and Exhibition Centre) to ensure a perfect result across the entire suite of events.
The Big Idea
A key objective of ours for this year's event was to ensure the app and Guild brands received maximum exposure to high-quality photography and videography. Throughout the year, images and videos will be used for a range of promotional activities within the industry, so it was important that this was captured during the four days of the event.
Our approach was to fill the entire stage presentation with LED digital display technology, alongside custom designed print media to reinforce the conference brand. We also opted to produce unique custom designed media files to maximise sponsor exposure, as well as display the title of each session.
Using multi-layered video files along with Photoshop, we managed all of the custom-sized display screens and controlled them by using a media server program which tied the many different displays together, ensuring streamlined and consistent visuals.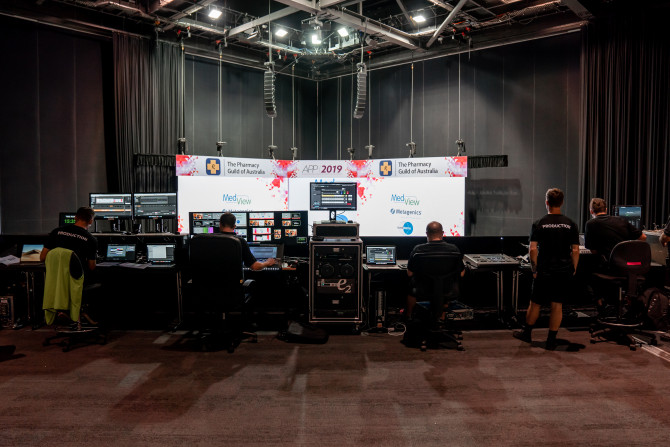 Executing an Unforgettable Experience
Coming up with new ways to create a memorable experience, for the client and app2019 attendees alike, might sound like no easy feat after working with the same event for over 20 years – but that's what we thrive off. What originally started as a small plenary set with a few concurrent sessions, has grown to become a four-day, must-attend conference event for those in the pharmaceutical industry.
To create an unforgettable event for both delegates and speakers, as well as ensure optimum exposure for the brands involved, we worked with the most modern display technology available. Our planning and design, combined with the technology used, resulted in satisfied clients who were thrilled with not only the aesthetic of their event, but the execution of it too.
Looking ahead, we're planning on working closely with our client to develop ways we can add even more value though media content production to take the feel of the app2019 event to whole new level.