APP Online 2020
"Faced with the option of cancelling our program altogether or running an online, livestream program, we had no hesitation in handing over to Inceptive to manage the latter. With only one week to restructure the program format, Inceptive did an astounding job of pulling together the online portal and reconfiguring the onsite production to deliver professional, seamless content to our online audience."
The Pharmacy Guild of Australia has been a client of ours for over 20 years now. Delivering quality health outcomes for Australians, across over 500 pharmacies nationally and operating as a supporting body for governments, manufacturers and wholesalers, is at the heart of what they do – it is especially pertinent in the global pandemic that is COVID-19.
With restrictions impacting business as usual, the annual APP Conference – traditionally hosted as a large-scale on-site event – morphed into an online experience just one week out from planned activity. A challenge, yes. However, our breadth of experience ensures we understand that event planning is never a finite process and unforeseen factors can be out of anyone's control.
Suffice to say, navigating operational changes at pace to deliver quality event experiences is part of our planning process and our goal is to always make sure that even in a crisis, our clients are treated to the quality Inceptive experience they've always been used to.
The Logistics
Reimagined entirely to deliver a staged event via a custom digital setup, in real time and complete with interactive capability, APP Online was geared at communicating keynote talks and information sessions with a view to educate and engage.  With 42 live presentations, streamed over three days, on two concurrent channels incorporating 1810 minutes of live content – the event was a digital feast designed for audiences to stream the experience from home. This involved a tailored process and methodology for execution to mitigate against technical disruption.
We also factored in scheduling restraints as portions of streaming took place while some attendees were offline. As a result, we ensured all recordings were ready to view directly after each event took place for easy accessibility and remained viewable for 12 months afterwards.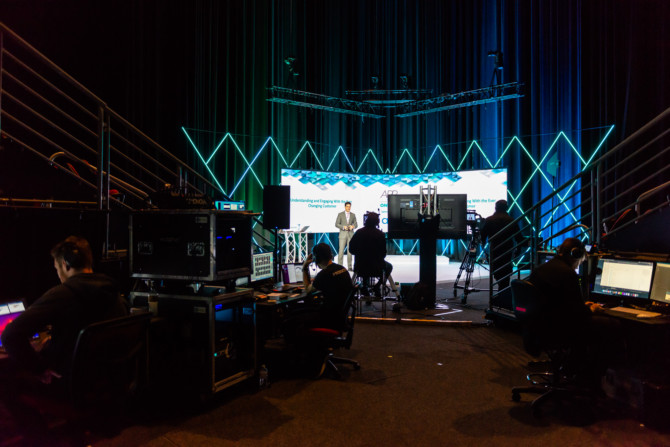 The Big Idea
With the customary main plenary room and breakout room off the cards we needed to ensure an engaging visual experience – where both rooms operated simultaneously – online. For App 2020 an easy-to-use interface was the place to start. Our years' experience in high-end live streaming saw us hit the ground running with a view to building a digital site that showcased a best in class user experience in functionality, accessibility and design.
Harnessing our architectural and design backgrounds, we created a concept that strategically executed on the client objectives: deliver an event experience across a dual setup that was aesthetically designed and tech-driven for optimisation and engagement. We designed the functionality to allow us to manage the stage set up across two rooms with constant streaming of real-time presentations while offering coaching for leaders who were running sessions in a new delivery environment.
It was crucial to ensure presenters had the tools and on-hand support to successfully execute presentations that would traditionally see them bouncing off interactions with live-audiences. To enliven the setting, we chose to create custom lighting installations to serve as the backdrop to a large LED screen for displaying event branding and sponsor logos, ensuring continuous exposure for the entirety of the event.
Executing an Unforgettable Experience
Keep calm and carry on. We had an event underway and delivering a compelling digital experience was the goal! Our tailored interface included an interactive agenda; alerting to sessions at go-live and after the event by way of notifications to encourage replay. We developed tailored branded content for streaming at session breakouts during the event to ensure the audience always engaged with themed materials.
Aside from keeping the audience captivated, tailored breakout content formed part of the contingency planning to keep the event active and lively. Understanding that the event would see audiences participating outside of working hours, we designed a custom-solution for cataloguing all the live content to allow viewers to return and view the videos at their leisure. Analytics extracted from the platform showcased views, impressions and viewing time; working to capture data for people leaders as the content was designed for educational purposes and professional development.
Analytics and feedback demonstrated that audiences were actively participating in the educational sessions, particularly ones that offered workflows and insight into managing operations during the pandemic – particularly pertinent but also integral to the organisation's success in the current working landscape. With all presentations synced to video and cataloguing to ensure long term accessibility for all participants – this year's event was certainly one for the history books and a proven success under the circumstances.
"The experience was such a positive one that in future, we will be offering an online, live stream option to our conference attendees as well as the face-to-face delivery of presentations."
Emma Fernance – Events Manager – The Pharmacy Guild of Australia, Queensland Branch